The All-New 2020 Porsche Cayenne Coupé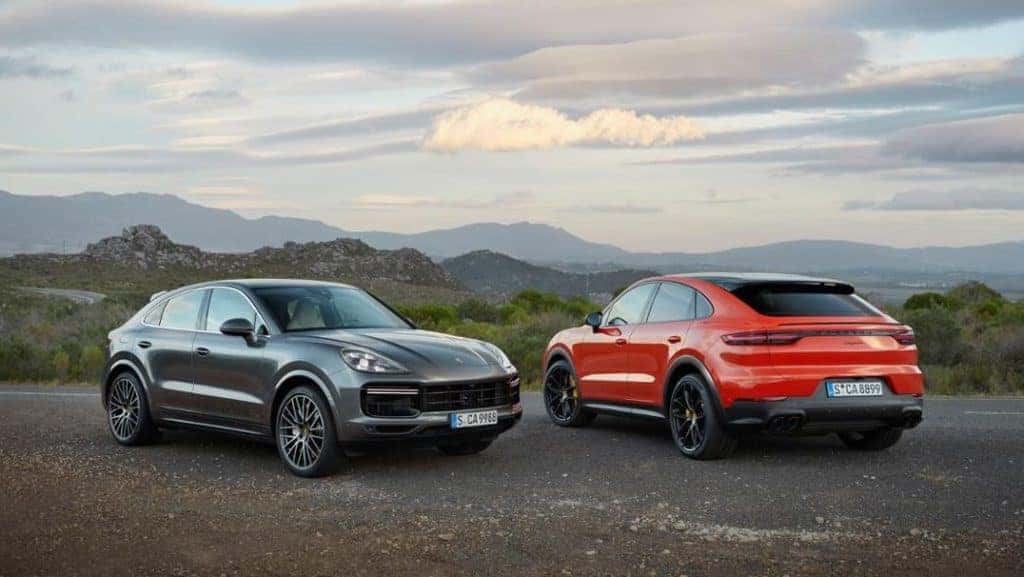 Porsche has launched a new variation of the Porsche Cayenne – the Porsche Cayenne Coupé. The Cayenne Coupé is available for orders now and will arrive in US dealerships this Fall. Everyone is eagerly anticipating its arrival, especially us here at Town Porsche. The Porsche Cayenne Coupé is not just another Porsche SUV, like the closely related Cayenne or the Macan. The Cayenne Coupé is completely unique in more ways than one.
Shaping the Cayenne Coupé Inside and Out
The all-new 2020 Cayenne Coupé is an entirely new model with a unique profile that has been shaped by years of performance. The Cayenne Coupé is technically the third generation of the Cayenne model, which is already a progressive SUV line. This new model is slightly longer and wider than the current Cayenne, to give the Coupé a more aggressive and sporty look. The Cayenne Coupé comes standard with a panoramic, fixed glass roof, the roofline has been lowered, and an automatic rear spoiler has been added. The 2020 Cayenne Coupé is available in 11 different paint colors and 17 different wheel variations so customers can truly make it their own. The Cayenne Coupé follows the typical Porsche coupé silhouette, but it is blended with the shape of an SUV.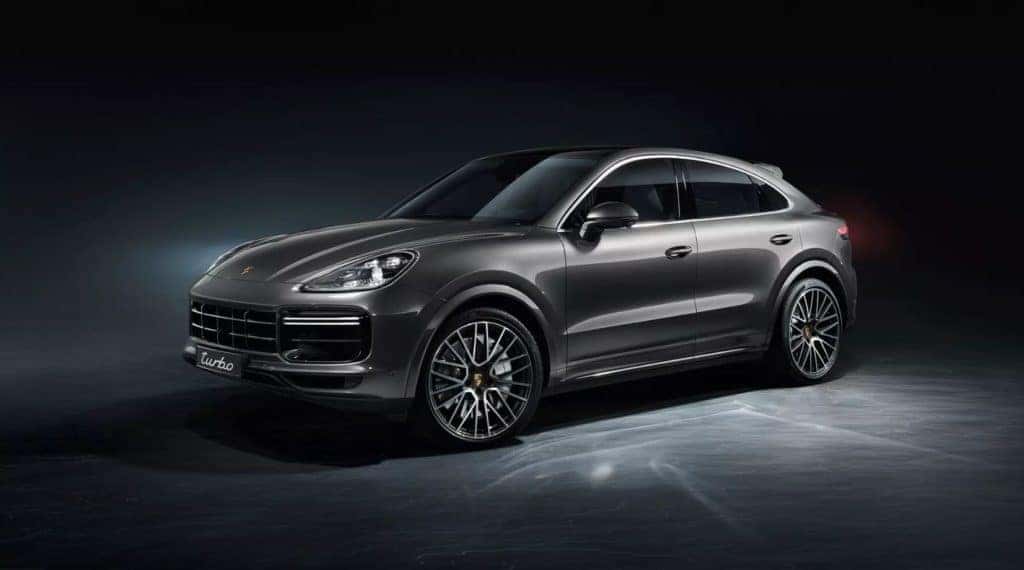 The interior of the new Cayenne Coupé will be just as unique as its silhouette. The Cayenne Coupé has ample seating space for four adults. The front seats come standard as 8-way power seats with integrated head rests. The rear seats are a bench seat with seating for two. Customers can upgrade to premium comfort rear seating at no additional cost, just like in the full sized Cayenne. Even with the lowered roofline, the passengers will sit more than 30 millimeters lower than in the Cayenne, giving you plenty of headroom. The rear seats will also fold flat giving us over 54 cu. ft. of cargo room. The Cayenne Coupé interior comes in 13 different color options, including an all-new Black Leather with Silver Houndstooth inlays.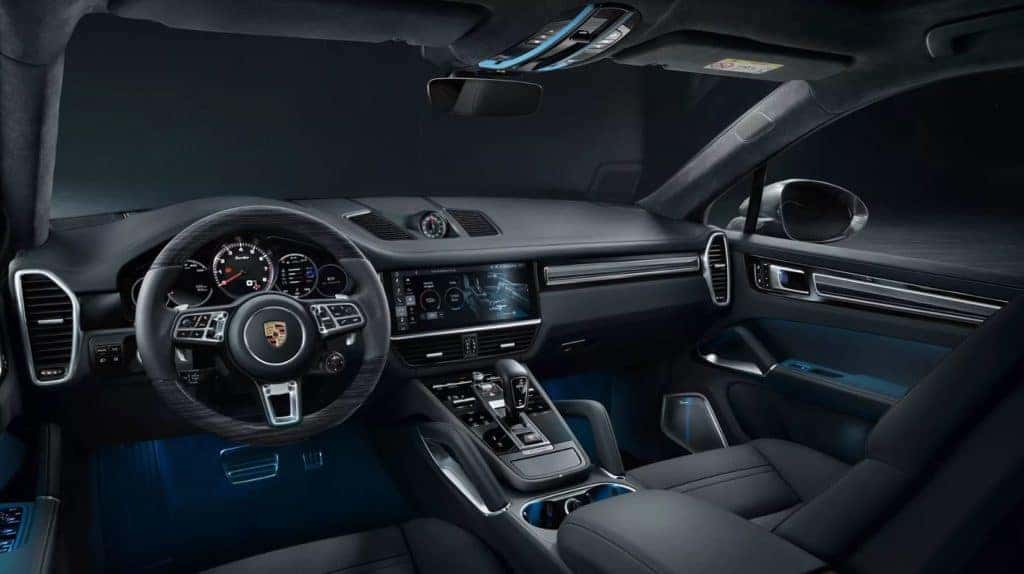 Uncompromising Performance
The Cayenne Coupé might be slightly smaller than the Cayenne, but the performance is definitely not smaller. The Cayenne Coupé can be configured in the base model or Cayenne S Coupé or Cayenne Turbo Coupé variations. The base Coupé makes 335 horsepower, the S Coupé makes 434 horsepower, and the Turbo Coupé jumps up to 541 horsepower. This power is made with twin-turbo engines – 6-cylinder variations in the base and S Coupé models, and a 4.0L 8-cylinder engine in the Turbo Coupé. While EPA estimates are not available yet, we could estimate around 24 mpg highway, like other comparable powertrains in similar Porsche SUV's.
More variations of the Cayenne Coupé will be made available as time goes on. There will be three lightweight sports packages available, two available this year and one available at the beginning of 2020. All three include a contoured carbon roof, carbon diffuser trim, 22-inch GT Design wheels and a sports exhaust system for the Cayenne Turbo Coupé. A Sport Chrono Package will also be available, like on other Porsche models. The Sport Chrono Package allows the driver to choose between four unique drive modes – Normal, SPORT, SPORT PLUS and Individual – so you can adjust the Cayenne Coupe's chassis and drive dynamics in an instant.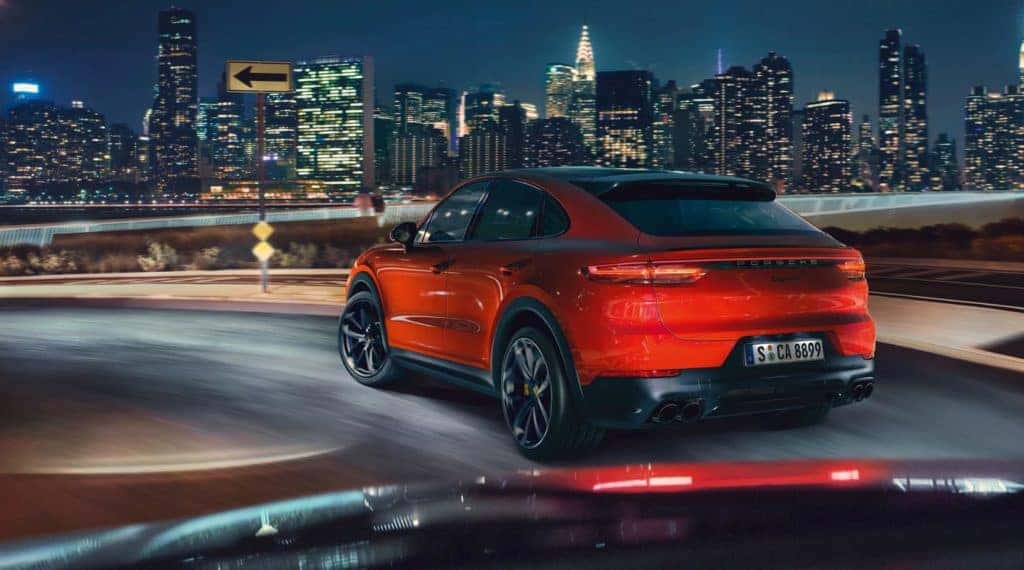 Safety and Connectivity
Like all Porsche models, the Cayenne Coupé's technology and safety features are ahead of the curve. The Cayenne Coupé comes with Porsche Communication Management and Porsche Connect. These intelligent services and apps support the driver with real-time traffic information, online music and news information, local searches for parking or restaurants, connects to Apple CarPlay, and more. A new, full color heads-up display is an available option, as well. Safety features include Porsche InnoDrive systems that include adaptive cruise control and active lane keeping. The Cayenne Coupé also comes with Porsche's Dynamic Light System Plus, which automatically adjusts your headlight beams and cornering lights based on navigation data and your current location. Check out the highlight video below of all the progressive, cutting-edge features of the Cayenne Coupé!
How to Get Your Own Cayenne Coupé
If you cannot wait to get the all-new Cayenne Coupé, it is currently available for order and you can pick it up right here at Town Porsche! The Cayenne Coupé will arrive here for sale sometime this Fall. We can help you place your order today. You can contact us by calling (201) 227-6500, or you can visit our showroom in Englewood, NJ. We would be happy to work with you! If you're interested shopping for your next Porsche today, you can browse our new inventory, pre-owned inventory, or our certified pre-owned inventory. We look forward to helping you in the search for your Porsche!