The 2022 Porsche 718 Cayman GT4 RS is Coming Soon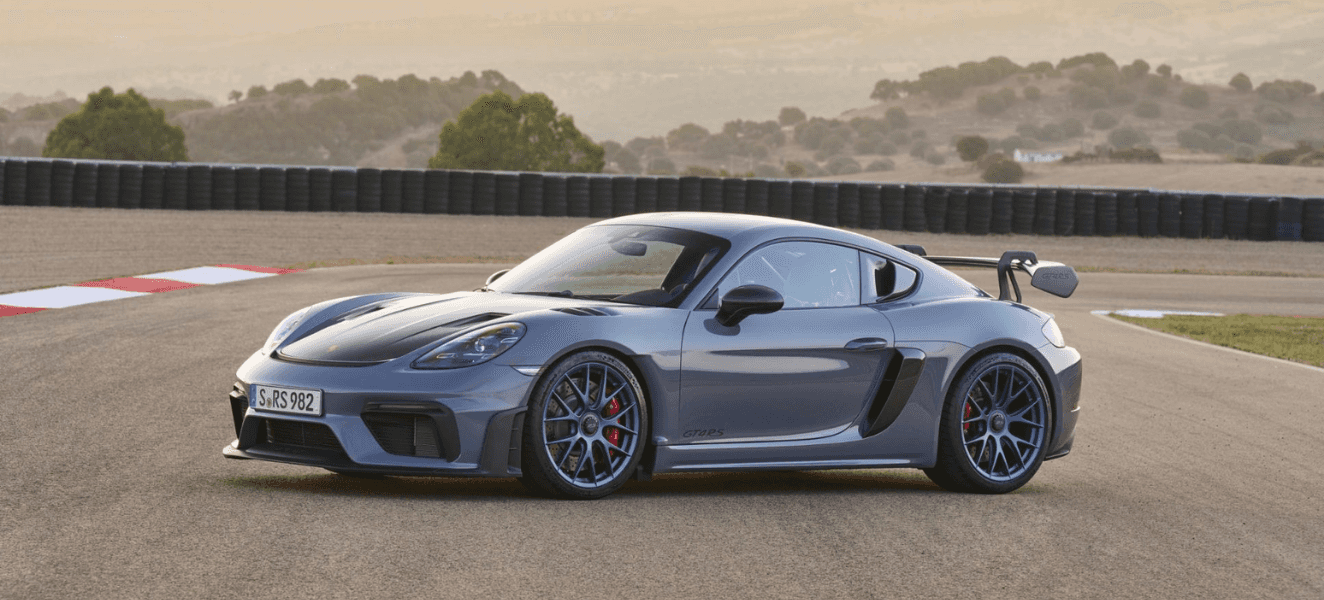 Are you looking to start 2022 with an all-new sports car? You've got to check out the latest Porsche 718 Cayman model. Porsche recently announced the arrival of the 2022 Porsche 718 Cayman GT4 RS model and it's the most thrilling 718 ever created. Towards the end of last year, Porsche dropped photos of this new variant while doing tests in the alps, and once they unveiled the finished product, our entire staff here at Porsche Englewood agreed – it's a stunner. This new model variant has more power, sharper handling, less weight, and a refined design. Continue reading to learn all about the new 718 Cayman GT4 RS!
Improved Performance
The new Cayman GT4 RS is exactly what you would expect from a Porsche GT4 RS model – a racecar made for civilian city streets. This new Cayman runs on the same naturally aspirated 4.0-liter flat-six engine that is used in the 911 GT3 Cup cars. The Cayman GT4 RS engine revs up to 9,000 rpm and has a total of 493 horsepower, 79 more hp than the GT4 model. Just like all new RS models, this new variant comes exclusively with Porsche's seven-speed dual-clutch transmission.
The 718 Cayman GT4 RS was built with a major focus on the use of lightweight materials. Weight reductions features include a carbon fiber reinforced plastic hood and front fenders, lightweight rear window, lighter door panels and carpeting, even the use of storage nets on the doors instead of model plastics like the other Cayman models. The 718 Cayman GT4 RS comes in 49 pounds less than the GT4 model, and it's capable of accelerating 0-60 mph in just 3.2 seconds. In conclusion, this new Cayman is faster, quicker, and lighter than all its predecessors.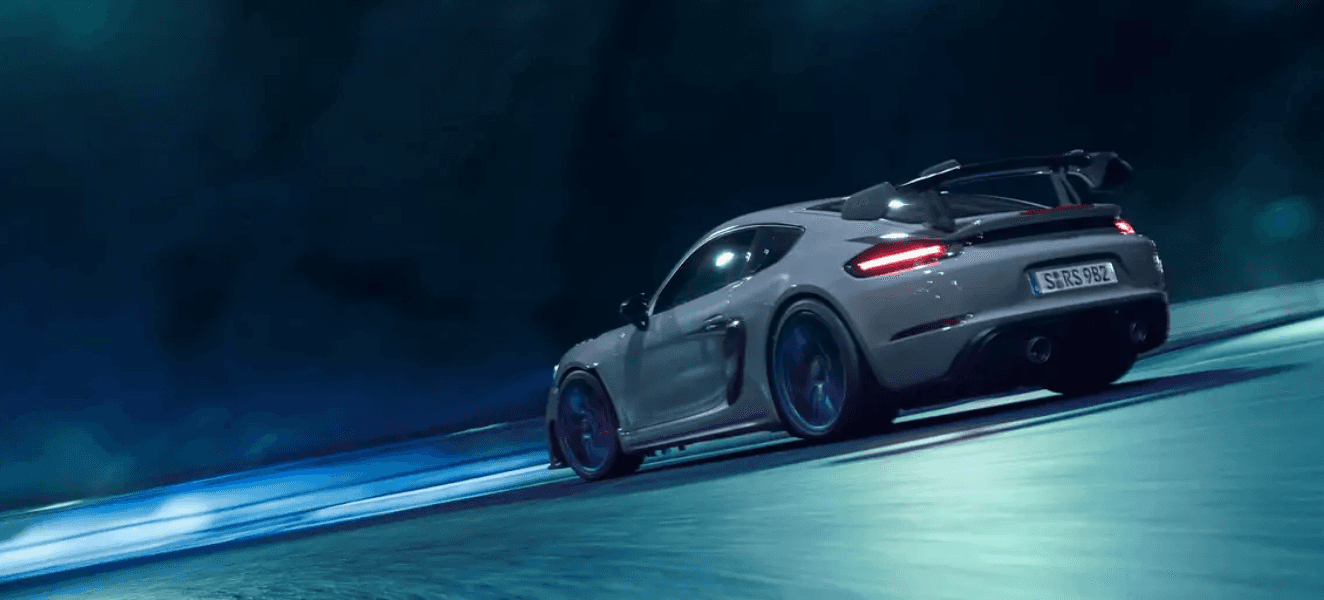 Redesigned, Aerodynamic Exterior Design
The exterior looks of this new Porsche 718 Cayman GT4 RS were mostly driven by functionality demands for downforce, but the look is still aggressive, head-turning, and unmistakably Porsche. The Cayman GT4 RS is 30 mm lower than the standard Cayman model, and also comes with front wheel-well ventilation, aerodynamically enhanced undercarriage, front diffusor, rear diffusor, new front spoiler lip, air intakes on the rear fenders for additional engine cooling, and all-new, RS-specific air intakes on the driver and passenger side where the rear windows would be on the other Cayman models. The most noticeable, and most important of all the new exterior aerodynamics is the new rear wing. The new, fixed rear wing on the Cayman GT4 RS is exclusive to the GT4 RS and features swan neck mounts and aluminum supports. All of these aerodynamics generate 25% more downforce in the GT4 RS than in the GT4.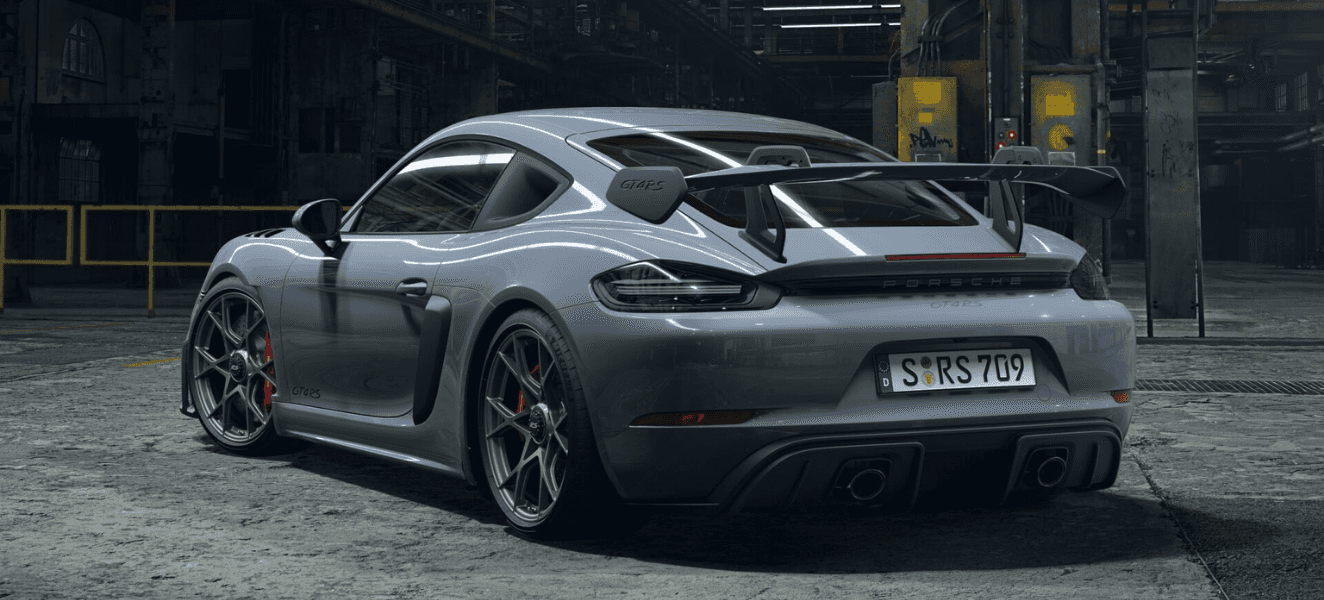 Safety Features
Porsche is also keen on upholding safety standards in this new Cayman model. Almost all safety and technological features found in other variants are also present in the 2022 Porsche 718 Cayman GT4 RS. You'll get the frontal, side-impact, and overhead airbags as well as a stability management system. You also get the adaptive Bi-xenon and LED lights, rain-sensing wipers, parking sensors, and rearview cameras. Another notable feature is the built-in air jack system that is compliant with the latest racing standards, safety nets, a six-point racing safety harness, and adjustable Recaro racing seats.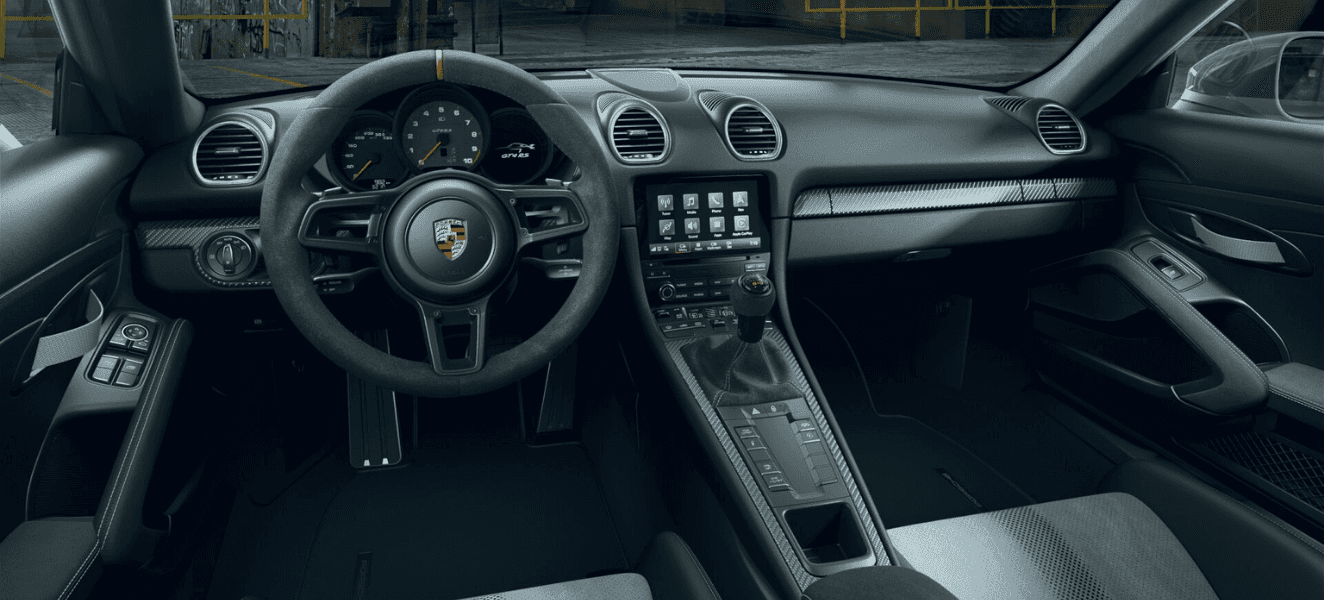 Get Your 2022 Porsche 718 Cayman GT4 RS at Englewood
This new Porsche 718 Cayman GT4 RS is truly one-of-a-kind. The increased performance and aerodynamic design are what every sports car owner dreams of. If you're interested in this new model, contact our Sales Team today at (201) 227-6500, or visit our dealership located at 105 Grand Avenue in Englewood, NJ. We have a wide range of new Porsche models, pre-owned models, and certified pre-owned Porsche's to choose from. We look forward to helping you find your dream Porsche!