Attention New Porsche Customers: Save Up to $4,500!
Ready For An Upgrade? Trade In Your Lease For A New Porsche
---
If you are currently tied down in a lease contract of a car you don't truly love, then the team at Porsche Englewood has some amazing news for you: We're here to get you out! The experts at our Porsche dealer in Englewood, NJ can help you move on from your current car and get big savings at the same time. For a limited time, you can save up to $4,500 when you finance or lease a 2019 Panamera through Porsche Financial Services.
Customer Eligibility
---
Customers with a currently active competitive (non-Porsche of any make) lease contracted as a new, demo or pre-owned vehicle (as detailed by their existing lease agreement). To be considered active, the customer must have at least one payment due as of the contract date for the eligible new Porsche model. Active status is determined by the PFS contract date being greater than 30 days from the original maturity date of the competitive lease. Competitive leases that have been extended beyond the original maturity date are not eligible.
Payoff, trade-in, or return of the existing competitive lease is not required except if the competitive lease is 181 days or more from the maturity date. However, current PFS credit guidelines apply as applicable to each transaction. Competitive single pay leases are eligible. The amount of the monthly payment credit is calculated by taking the single pay payment amount divided by the term of the competitive lease agreement (maximum of $1,500/payment).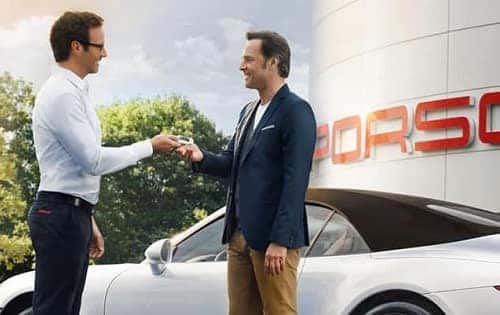 We're Here For You
---
Our expert team at Porsche Englewood is here to answer any questions you may have. We always have great specials if you'd like to lease a new Porsche. If you prefer to own, our Finance Center is always on standby. Contact the Porsche Englewood team below or give us a call at (201) 227-6500.
Ready to get into a Porsche? Let us know!
---
*Existing competitive lease must mature within 180 days of your new Porsche lease contract date or proof that the competitive lease payoff must be remitted by Porsche dealer. Please note, it is not necessary to trade in your existing lease to take advantage of this reward. Contracts must be dated on or between specified dates. Contact Porsche Englewood for final eligibility. Offer expires 3/31/2020.